Welcome
to Dubliner Design with original mouse-drawn graphics. I have graphics for your site decoration. I hope you find something you really like. Enjoy your visit!
Visit my another sites with free web graphics
and 3D Poser images
If you would like to see my portfolio go to www.margareta.se
and click 'Flash presentation'
~My best regards~
Margareta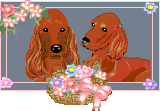 My inspirationsourse - two beautiful settergirls, Alice and Ella. They are excellent, especially in training their folks to behave!